Exploring the Reefs of Rarotonga
Author: Martin Ciesieleski
The Boeing 777-300 touches down on the single-strip runway in Rarotonga. It has been a long nine-and-a-half-hour overnight flight from Los Angeles. Even the early morning sky seems unhurried as my wife Janice and I disembark and wander slowly down the entry ramp to the tarmac. It's time to put away your watch; you won't need it anymore. You're on island time.
The heat and humidity immediately soothe your winter skin and soul. A slow, salt-scented breeze guides you across to the open-air terminal, where local musical legend "Papa" Jake Numanga serenades you, just like he has for every arriving flight in the past 35 years.
The Island
The South Pacific paradise of Rarotonga is the largest of the 15 Cook Islands and is home to 13,000 of the country's 17,000 people. Postcard pretty, the island is volcanic in origin, located 1,450 miles (2,300 km) southeast of Fiji and about a million miles from the trials of everyday life.
The Cook Islands have a "free association" with New Zealand and use the New Zealand dollar along with their own local currency. Cook Islanders are New Zealand citizens, and English is the primary language. This is not a destination for those who need to be connected 24/7 or to bring five suitcases of clothes. Rarotonga and the Cook Islands are where you forget about work and trade your stress for a pair of flippers and a snorkel mask.
On the north shore, adjacent to the airport, is the capital town of Avarua. With a population of only 5,000 people, it is a checkerboard of shops, restaurants and bars, churches, and government buildings. Being a port town, this is the harbor where cruise ships bring passengers to begin their island excursions. But this is not your average tourist trap; it is the heartbeat of Rarotonga.
Every Saturday morning, the Punanga Nui Market is a cultural rainbow that ties the whole island together. There is a maze of colorful booths with local produce, island tastes, clothing, and souvenirs to peruse. Stages with music and aspiring dancers make this market the place to experience the
Kia Orana
(meaning hello, welcome, or have a long, happy life) spirit.
It is whispered that Rarotonga is like Hawaii was 50 years ago, barely touched and underdeveloped. That may be true, as there are no traffic lights or stop signs on Rarotonga's main ring road, which encircles the entire island. This makes navigation straightforward, with only two roundabouts in the town of Avarua.
Local transportation is mainly compact cars, scooters, and bicycles. There are two bus routes. They follow the ring road and are logically labeled "clockwise" and "anti-clockwise." We soon learned the buses are also on island time but will happily stop for you anywhere on the side of the ring road. Bike and scooter rentals are popular and easily available. Cycling the entire island one morning, with palm tree breezes, a splatter of warm rain, and an ocean view on my port side was indeed a memorable experience!
Long before the Polynesians arrived at the Cook Islands, the Beach Fairy granted Rarotonga linen-colored sand sprinkled with pixie dust coral and a promise to keep it unspoiled. As a result, there's only me and my footprints on morning runs with a soft soundtrack of waves. The ocean seems to reflect countless shades of blue, and it's nearly impossible to tell where the water ends and the sky begins. But then you realize it doesn't really matter—just take a mind selfie and savor the moment.
Even in paradise, a little rain must fall. January and February are the Cook Islands' wet months, and it did rain at some point most days. Often, though, it rained at night or early morning, or there was a cloud burst. But, a touch of wet sunshine did nothing to affect our snorkeling or swimming. Locals say November is the best month to visit, but I appreciate the lushness of the island's foliage in February.
A Snorkeler's Paradise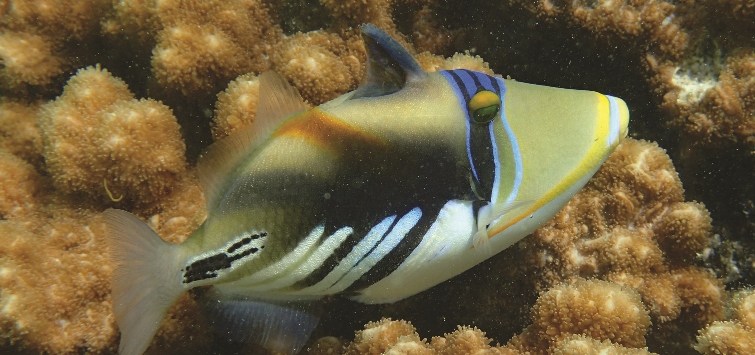 Most tourists come to Rarotonga for its underwater paradise. Some reviews claim its snorkeling is the best in the world.
The island is surrounded by a natural reef that creates a calm lagoon. The shallow off-beach snorkeling is perfect for beginner and experienced snorkelers alike. Fish are captive in the lagoon until the next very high tide that might carry them over the reef to the open sea. This results in a daily changing of the sea creatures on view. Even at high tide, the lagoon is no more than 2 meters deep. Snorkeling at low tide is a precarious experience of floating just above the coral.
The coral wasn't the most colorful we have seen, but it did seem healthy. The coral bommies were abuzz with threadfin, saddle, and speckled butterflyfish, Moorish idols, and schools of convict tangs. Swimming in more open waters were individual lagoon triggerfish and large schools of blue sea chubs, mixed with bluefin trevally.
The numerous wrasses, with their tie-dye colors, were the reef's most vibrant characters. I was unable to classify all the wrasses, but the bluestreak cleaner wrasse (Labroides dimidiatus) was easily identifiable due to its distinctive juvenile coloration.
The establishment of the Aroa Marine Reserve has been monumental in preserving a pristine aquatic habitat. The Marine Reserve does not allow boats or fishing in its protected area. This creates a safe haven for the fish as they feed in the reef's splash zone. The Marine Reserve is located at the southwest tip of the island, in front of Aroa beach, which as fortune would have it, was directly across the road from our accommodations.
The reserve stretched from our section of the beach down to the mighty Rarotongan Beach Resort. Each day (and sometimes twice a day), we purposely entered the water at a different point and had a distinct snorkeling experience. With the different fish and corals in varying water levels, it was like switching TV channels.
I wore only reef shoes for easy water entry, as the calmness of the lagoon eliminates the need for flippers. The reef shoes are not only protection from sharp coral and rocks but also Pacific flounders that lay in wait on the bottom sand. I luckily missed stepping on one by spotting its eye at the last second. With their sandy camouflage, I'm sure there were some small fish that weren't so lucky!
Most afternoons, the water, air, and your body seem to all reach a uniform temperature. Just check your mask and wade in. By the time you are knee-deep, whitish goatfish casually school by your feet. Sea cucumbers and sea urchins litter the ocean bottom. Vivid blue starfish cling motionlessly to rock formations, shining like the ocean's Christmas star. But then, there it was: a Moray eel sticking its head out of a cave, reminding us that ocean life is still survival of the fittest.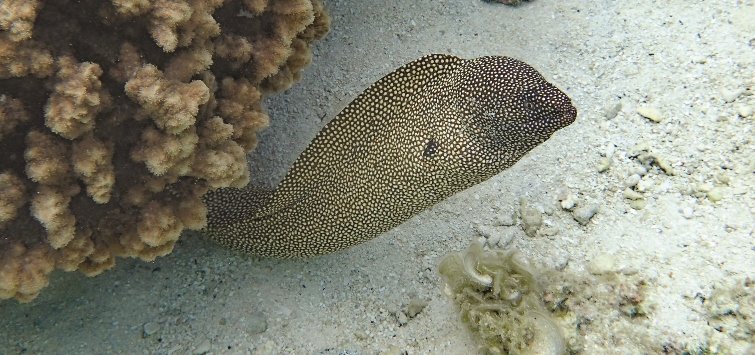 The only danger to snorkelers is not sharks, but rather the "passages" where the ocean has broken through the Cook Islands coral reef. These areas have a strong current and would easily carry a swimmer out into open waters. Fortunately, there are only about five locations around the island where this occurs, and they are all clearly marked with warning signs.
Aroa Marine Reserve is not the only spot to snorkel. There are Black Rock, (although the waves were choppy the day we went), Tikioki—the Fruits of Rarotonga, a permanent marine reserve so named because of the fruit stand across the road), and Muri Beach Lagoon. Muri Beach is on the east side of the island and is as close to touristy as you will find. It is a small town with accommodations, pubs, and shops. Foodies will savor the smells and sounds of the Muri night market. Open almost every evening, it is a smorgasbord of small vendors and food trucks with a great open-air atmosphere. The lagoon is lined with hotels and luxury resorts, and its shallowness allows you to walk out to small islands at low tide. It is tranquil for snorkeling, but be mindful of the glass-bottom tour boats!
For divers, there are numerous dive shops that will take you out past the Cook Islands coral reef for a deep-water experience. Some dive shops even offer beginner scuba lessons in the lagoon. Rarotonga also has other ways to enjoy marine life, such as deep-sea fishing, lagoon cruises, semi-submersible submarines, and, of course, there are dinner cruises complete with spectacular sunsets.
A sign of a healthy reef is the number of young or juvenile fish. We witnessed two clear signs that Rarotonga's conservation efforts have been successful. On a daily basis, we came upon baby blue and humbug damsels swarming around large finger coral like a beehive. From a distance, the little blue damsels looked like neon tetras. When we approached them, they would quickly dart down into the safety of the coral fingers. However, if you float above them and patiently wait, they rise out and continue their activity with parents and older siblings on guard. It was a dazzling display of color in motion that we viewed at various sites around the reef.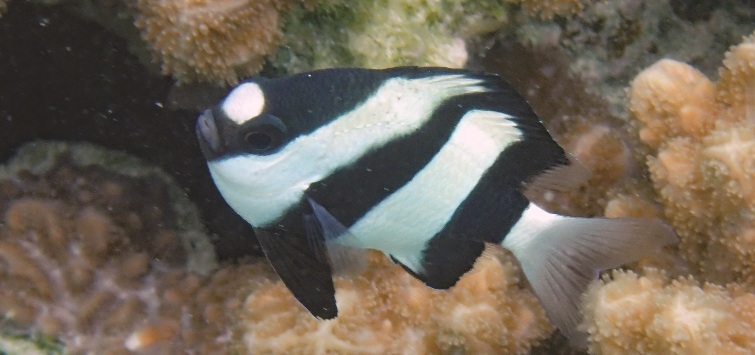 On one particular day, we saw another encouraging sign of the Cook Islands coral reef's vitality, a school of possibly 200 silvery translucent young fish. Research later that night indicated they were the juvenile form of regal blue hepatus tangs. But, alas, this was a one-time sighting, for as much as we searched, we never spotted this school again.
Marae Moana Marine Park
The Marae Moana is a marine park that covers the Cook Islands Exclusive Economic Zone (EEZ), which is an area of 1.9 million square kilometers. Established in 2017, it protects the zone from large-scale commercial fishing and mining of seabed minerals. But in every garden of paradise, there is always a bad apple. In the Cook Islands garden, there is pressure from multinational companies to allow more commercial fishing and mining for precious metals underneath the seabed.
As our resort's receptionist observed, "It's great to have the toughest conservation laws in the world, but they do nothing if no one enforces them." Hopefully, this tiny island nation can resist the temptation of a short-term economic fix.
Leaving with the Memories of a Lifetime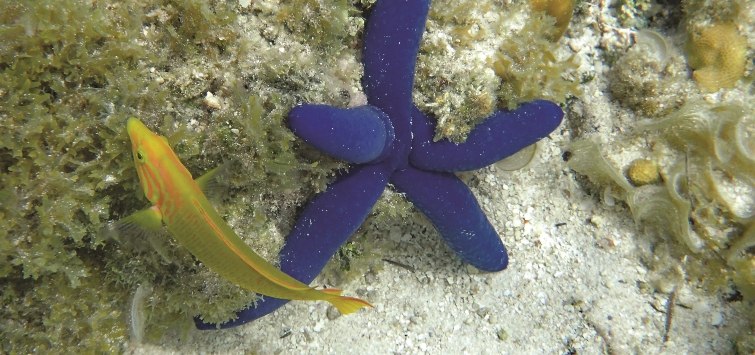 At last, it is time to depart for home; at least, that's what my airline ticket says. I will miss the new friends, the HD clarity of the lagoon's waters, and sunsets that seemed like God smudged an orange wax crayon across the sky with His thumb. As we reluctantly say our goodbyes and begin our trip back to LA, Jake Numanga strums "Leaving on a Jet Plane." We will return one day to this paradise, found and never forgotten.