Aquascaping with Aquarium Moss
Author: LeaMaddocks
Aquatic mosses are some of the most versatile plants we can use in
aquascaping
. Mosses can be used effectively for creating foreground carpets or shrubs, midground accents on raised hardscape, and even background for walls.
Aquarium moss is also an extremely hardy plant, surviving and thriving in a wide range of water and lighting conditions. And mosses are durable, standing up to the rough-and-tumble activities of many different kinds of fishes and invertebrates.
For these reasons, mosses are often one of the first plants kept by those starting out in the hobby. But just because they are common for novices doesn't mean they should be ignored for more challenging plants as hobbyists build their aquascaping skills. Using them more creatively can be a fun challenge, as can experimenting with different kinds of aquarium moss.
In this edition of The Planted Tank, we'll explore some useful ideas for incorporating mosses into your aquascape and investigate some interesting species and similar plants that can be used along with mosses for contrast in texture and color.
A Few Good Mosses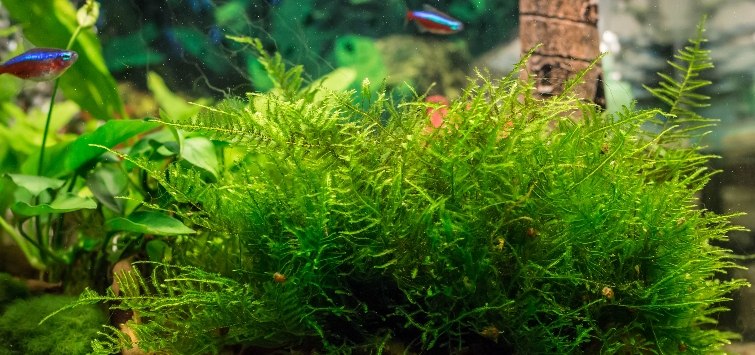 Java moss (
Vesicularia
dubyana
) is the most commonly used moss and is extremely hardy. It is known for having more of a wise, sprawling, "messy" growth habit, though it may be more compact under higher lighting. It is the hardiest of the commonly kept mosses.
For a more elegant effect, you may want to try Christmas tree moss (
V
.
montagnei
). Each strand of
V
.
montagnei
grows in an overlapping fashion, each layer over the other, like the branches of a Christmas tree, which gives it its common name.
Flame moss (
Taxiphyllum
sp. "flame") is also an attractive option. This moss produces strands that grow vertically in compact bunches resembling flames, hence the name. It also tends to be a little darker than other commonly available mosses.
Creating a Moss Aquascape
Mosses are one of my favorite go-to plants for creating greenery in tricky areas and conditions. Because they are lush and bushy in nature, they can be shaped easily for many aquascaping needs. They are also epiphytic; mosses have an undeveloped root system and obtain nutrients from water and soil through their numerous rhizoids, the thin filaments that grow from the moss fronds. These also let the plant attach to the substrate or hardscape.
Mosses can be incorporated almost anywhere and under any condition to great effect. Let's look at these mosses' use in planting different zones of the aquarium.
Foreground
Creating a lush foreground can often be a challenge. Most of the low-growing carpeting plants are very demanding in terms of substrate, lighting, and fertilizers. A similar effect can be created using mosses by simply spreading some along the ground and allowing it to anchor. While detritus may collect underneath, this can be removed occasionally during maintenance by inserting skewers through the mat and stirring while gently siphoning over the top of the moss. Errant strands that grow upward can easily be pressed back into the carpet.
Similarly, small shrubberies of moss can also be created easily and in almost any area. This is especially useful for creating contrasting foliage or filling in empty space near fast-growing rooted plants for an instant grown-in effect. Balls of moss can be readily pushed into vacant areas and will not compete with roots for substrate space or fertilizers. As rooted plants grow in and the moss aquascape develops, these fillers can easily be plucked out and placed elsewhere.
Additional foreground interest can be created with moss by attaching it to smaller twigs of driftwood and small pebbles. These can then be placed among other foreground plants for variety or filler, or to help define the foreground and midground or foreground and any open substrate space.
Midground
Mosses attached to your hardscape structure can be used for effective midground aquascaping. Stone or driftwood with wild or trimmed mosses growing on them can really draw the eye up, into, or across the aquarium.
Hardscape with moss can also act either as a focal point itself or to help direct the gaze toward a specific focal point. Pairing moss with hardscape is a fantastic way to showcase both the hardscape and moss because of the contrast in textures.
Mosses can also soften the look of excess hardscape, and masses of it can be used to quickly and easily blur the demarcation of the surrounding plants, cover cut ends of branches that look unnatural, or conceal parts of a hardscape you find unattractive.
You can easily attach aquatic mosses to a surface using a deep green or dark-colored cotton thread wound around a small ball. The moss will soon attach to the wood and flourish, and the cotton will eventually disintegrate. Some people use fishing line for this purpose, but the line will remain there permanently, which can make pruning difficult and can endanger livestock if it becomes loose.
Once the moss is secured, outgrowths can be tied down further along a branch or stone or pruned back, depending upon the size you are going for.
Background & Water Surface
Moss is also adaptable to background aquascaping. This can be as simple as attaching moss to higher points on the hardscape, such as multiple branches placed behind other main plantings, or having it grow out of a thicket of other plants, across the tank, and up to the water surface for a focal point.
Another interesting option is to create a moss wall. Cut two pieces of fine mesh or fly-screen material to the desired size, evenly spread out moss strands, and sandwich the moss between the two, securing the mesh together with cotton thread at the sides in a few places. The moss will soon grow through and over the mesh, holding it together long term. When grown in, it can be stunning as a backdrop for a planted tank or below the waterline for a riparium or paludarium.
At the water surface, mosses and similar plants, such as
Riccia
fluitans
, can also simply be left to float. This is excellent for encouraging shy fish to come out or providing space for fry.
Maintaining Mosses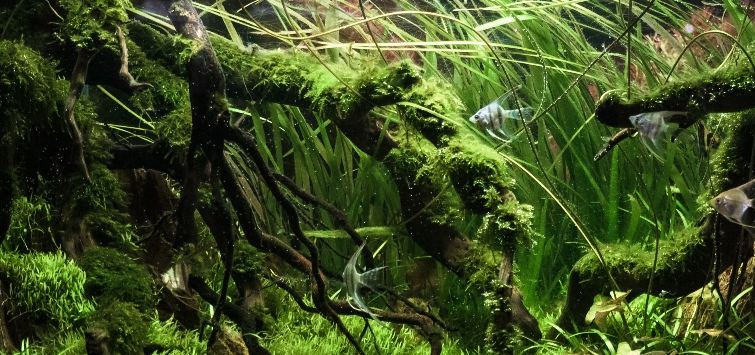 Most mosses have a relatively slow growth rate and as such generally don't need any fertilizers or CO2, though some may grow faster and show more lush growth using them. No specific substrates are required for mosses either, as they are epiphytic. They also do well in low light and shady areas but will also grow well in moderate to high lighting.

They are hardy in terms of temperature, growing well at most tropical temperatures up to 82°F (28°C), and also growing well in cold water, albeit more slowly. Mosses are unfussy as far as water chemistry goes and will thrive in soft acidic water up to harder brackish and alkaline conditions.

They can be prone to algae in the presence of high nitrates, and occasionally cyanobacteria under low-nitrate/high-light conditions, but no more than most plants. Removing algae from aquarium moss is generally as easy as snipping off affected parts or, for cyanobacteria, removing the affected moss section from the tank, gently shaking it in old tank water, and rinsing it thoroughly before returning it to the tank. Some algae will remain, but if the algae problem is treated at the root cause, it will not take over again and soon dies away.

Occasional trimming will promote compact growth. Occasionally, this may turn brown, which can result from a lack of pruning, lack of water flow, or rapid changes in water quality. With the brown removed and the conditions corrected, it should grow back well.


Versatile Aquascaping
Moss aquascapes offer a lot of versatility, so take some time to experiment with approaches to using mosses throughout your layout, pruning, and employing different varieties for the unique effects they bring to your planted tank. Happy moss planting!